Stepping Stones to Health is the first choice for Bowen therapy and bioenergetics on the Gold Coast. We are dedicated to bringing clients long-lasting pain relief, improved movement and enhanced health.

Dedicated to your wellbeing
Why choose Stepping Stones to Health
We are fully qualified members of the Bowen Association of Australia (BAA) and the Bowen Therapy Academy of Australia (BTAA).
Our spacious, nature-based clinic has been designed to provide you with comfort, relaxation and healing so that you can experience the best treatment possible.
We love seeing your health improve, pain go away, and range of movement increase. We go beyond the usual to ensure your health and wellbeing are at their highest levels.
Enjoy our nature based clinic
Enjoy a relaxing Bowen treatment or bioenergetic consultation at our home-based clinic in the hinterland of Nerang. Surrounding our clinic is forest, amazing views of the Gold Coast and hinterland, and delightful birdsong and wildlife. Step away from the rush and electronic smog of the Gold Coast and feel your stress melt away throughout your Bowen therapy treatment. It will seem like you are miles away from the Coast, and yet we are located just six minutes from the M1 Motorway.
We are passionate about bowen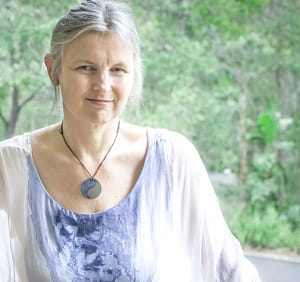 NES Health Bioenergetic Practitioner and Functional Nutritional Therapy Practitioner
Stepping Stones To Health was founded by Jo Douglas after she recovered from an extensive, personal health journey.
She likes to look at the overall picture of a person's health and is adept at reading the body and understanding the interplay between nutrition, emotions, biophysics and the physical structure. 
Bowen helped her recover from a variety of structural issues. These treatments deepened her knowledge as a therapist and demonstrate just what is possible with Bowen.
Bowen qualifications and training
Not all Bowen therapists have the same training and qualifications. Some have only completed a Certificate Four in Bowen Therapy. Others have continued their training and obtained a Diploma of Specialised Bowen Therapy (Specialised Procedures 1) and a Masters (Specialised Procedures 2) qualification.
While Bowen therapists with Certificate Four qualifications can provide a satisfactory treatment, it is advantageous to use the services of a therapist that is knowledgeable in all Bowen procedures, assessments and rehabilitation options.
Unless you check, you will not necessarily know which level of training your Bowen therapist has obtained.
It is also advisable that the Bowen therapist has trained in the original Bowen Technique (Bowtech) with Bowen Training Australia and has accreditation with the Bowen Therapy Academy of Australia.
Tom Bowen allowed just six people to watch him work and learn his technique over his years of practice.
Only one of these people, Ossie Rentsch, was invited to document his work. In 1982 he formed The Bowen Therapy Academy of Australia and began to teach Tom Bowen's technique, which is known as Bowtech, The Original Bowen Technique.
You can have peace of mind, knowing that you are in safe and capable hands. 
Jo has undertaken comprehensive training and is a qualified Bowen Therapist, holding a Certificate 4 and Diploma in Bowen Therapy from Bowen Training Australia, and has attended workshops on the specialised advanced Bowen procedures one and two. 
She is a member of the Bowen Association of Australia (BAA), the Bowen Therapy Academy of Australia (BTAA), the International Institute of Complementary Therapists (IICT) and the Nutritional Therapy Association (NTA). She is a fully qualified NES Health Bioenergetic Practitioner and Functional Nutritional Therapy Practitioner, FNTP.
Jo is an amazing therapist with a wealth of knowledge and Bowen therapy is a life saver. It's gotten rid of all the pain in my back and shoulder from gardening and has helped get rid of a chest infection in time for an overseas trip. I feel deeply relaxed and refreshed after a treatment. In fact, I am so relaxed that I have been known to nod off during a treatment!
Jo has a great understanding and empathy with what is going on in the body and Bowen has given her a great tool to help people. I have had a huge shift with some long term problems.
Are you ready to book your bowen treatment?
Booking an appointment is as simple as filling in the contact form on our website or phoning our clinic.